Why becoming a member matters:
As a member of the Star Chamber of Commerce, you will receive numerous privileges and services including advertising, website linking, business directory listings and much, much more! Your participation in a united effort will make Star, Idaho a greater place to live and do business, now and into the future. Become recognized as a part of the Star business community. Join the Chamber now and start enjoying these benefits to help your business!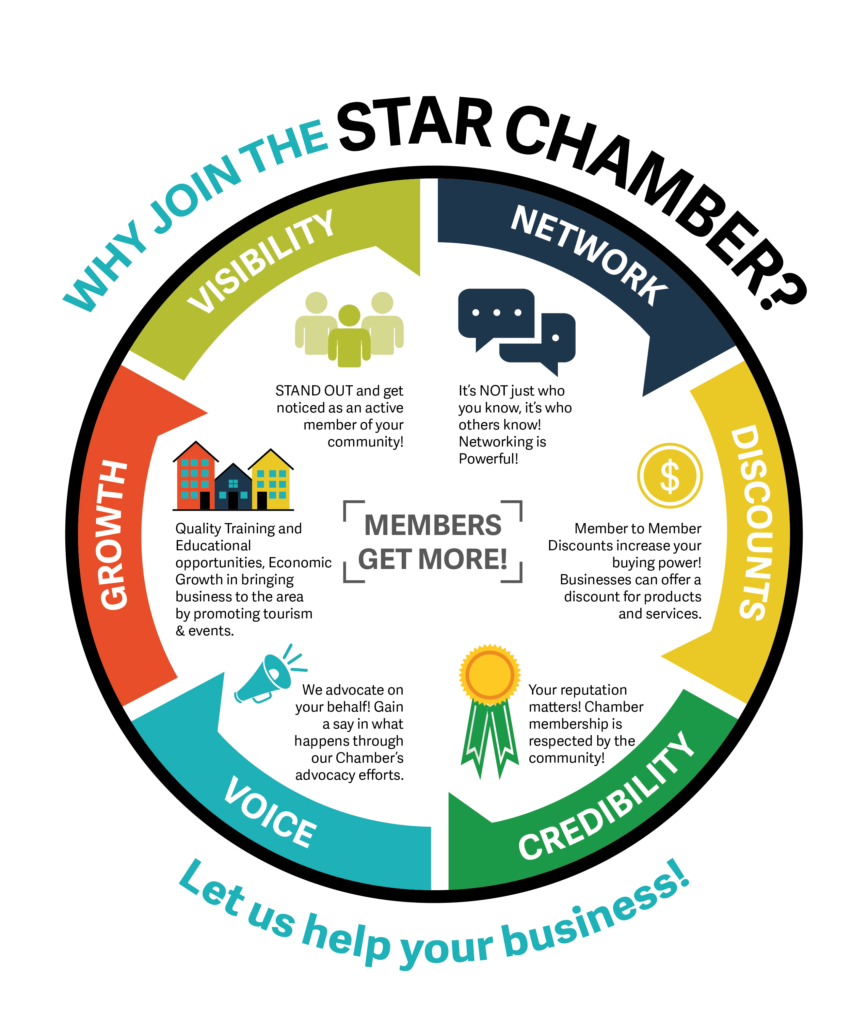 Promotional Opportunities
Free publicity:
All members are included in the Membership Directory and new members are advertised in the Chamber Newsletter and the Chamber's social media outlets.
Membership Directory:
Our online directory helps customers find the products they need. It also helps you network with your local business associates.
Newsletter:
You will receive timely information about activities impacting your business through the Newsletter online in pdf form to print out.
Ribbon Cutting, Anniversary and Groundbreaking Ceremonies:
Celebrate your event with the help of the Chamber.
Business Spotlight:
Two to Three business members will be highlighted each month during the chamber networking luncheon and in our Newsletter.
Sponsorships:
Your Chamber has opportunities for members to sponsor activities throughout the year including monthly luncheons, special forums and chamber produced community events.
Event Promotion:
We will promote your events in the Chamber Newsletter and on the Chamber's social media outlets.
Welcome Packets:
We distribute Welcome Packets to new residents in Star. As a member, you can include promotional items from your business AT NO CHARGE.
Value-added benefits
Community Events:
Each year, the Chamber organizes several community events. These events provide an opportunity to bring the community together and promote our member businesses.
Easter Eggstravanza
Classic Car Show
Fall Festival
Christmas Extravaganza & Bazaar
Member Discounts:
Save just by being a member of your chamber. Members receive reduced registration costs for all chamber activities.
Tax Deduction:
Your membership is 100% tax-deductible as a necessary business expense, not as a charitable donation.